Dear Friends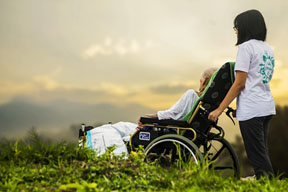 The Beatitudes for Caregivers
August-September 2023
Dear Friends,
You're probably familiar with Jesus' Sermon on the Mount ("Blessed are the ...), but you may not have noticed how easily his comforting words and promises can be adapted and applied to family caregivers here and now.
To you and what you face, what you do.
So, putting a bit of a spin on Matthew 5:3-12:

Blessed are those who mourn because their loved one, though still alive, is slipping away because of dementia, for they will be comforted.
Blessed are the meek who force themselves to speak up and speak out to make sure their loved one receives the help he or she needs, for they will inherit the land.
Blessed are those who hunger and thirst for answers to why this is happening to their loved one and how much longer it will go on, for they will be satisfied.
. .
As always, you and your loved ones remain in my prayers.
-- Bill
- - -
This week we're so pleased to welcome Katherine H. of Ohio as our newest member of the Friends of St. John the Caregivers.
Please keep her and her intentions in your prayers. She has promised to pray for you and hers.
Again this week we cordially invite you to join the Friends of St. John the Caregiver! (FSJC's programs include YourAgingParent.com and CatholicCaregivers.com.) You can find out more about becoming a member here.
No meetings, no dues. All we ask is that you pray for caregivers and those receiving care. Our members include caregivers, care-receivers, and those who support both (including quite a few former caregivers).
You can:
sign up online here

or call us toll-free at 1-800-392-JOHN (5646)

or print and mail an application form.
Welcome to YourAgingParent.com
This site is designed for family caregivers..

It's for those who are helping a:
spouse
aging parent
child with special needs
sibling with special needs
family member or
friend.
Here you'll find spirituality, information and resources for Catholic caregivers.

All our material and resources are free.
---
Visit our sister sites:
--Friends of St. John
the Caregiver
---
"The Basics
of Catholic Caregiving"

"A Caregiver's Prayer"
---

The Friends of St. John the Caregiver was chosen to be part of the USCCB's 2007-2008 Respect Life Program.
---
---