Dear Friends
Living a Prayer Called 'Caregiving'
Week of November 7, 2016
Prayer Requests
Dear Friends:
I want to thank Our Sunday Visitor Newsweekly editor Gretchen Crowe for publishing an article I wrote titled "Caregiving: A Living Prayer." OSV has a long history of being good to the Friends of St. John the Caregiver.
The article starts this way:
Certainly you intended no disrespect, but if you're a family caregiver, you've been tweaking the famous Benedictine motto.
"Ora et labora," the Benedictines say. "Pray and work."
"Laborare est orare" is what you're living. Day after day. Night after night.
"To work is to pray."
And, spoiler alert, it ends with this:
No, you may not be getting to Mass as often as you used to. You can't make it to the adoration chapel, the retreat or the mission. Perhaps you haven't opened your Bible since ... you don't know when. And maybe you're still unable to say even a few decades of the Rosary without nodding off.
But ...
You're doing God's will for you right here, right now.
And your life has become a living prayer called "caregiving."
You can find the middle of the article, and a couple of sidebar, on OSV's website here. It's also in the November 13 print edition of the paper.
- - -
And on another topic: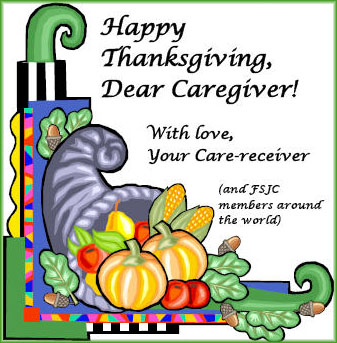 ---
This week we're so pleased to welcome Kimberly E. and Lorraine S. from Virginia, Maureen P. from Delaware, Elizabeth C. from Massachusetts, and Karen Z. from Kansas as the newest members of the Friends of St. John the Caregiver. Please keep them and their intentions in your prayers. They have promised to pray for you and yours.
And again this week we cordially invite you to join the Friends of St. John the Caregiver! (FSJC's programs include YourAgingParent.com and CatholicCaregivers.com.) You can find out more about becoming a member here.
No meetings, no dues. All we ask is that you pray for caregivers and those receiving care. Our members include caregivers, care-receivers, and those who support both (including quite a few former caregivers).
You can:
sign up on-line here

or call us toll-free at 1-800-392-JOHN (5646)

or print and mail an application form.
God bless you!
Bill