Weeks of January 7-28, 2013
Prayer Requests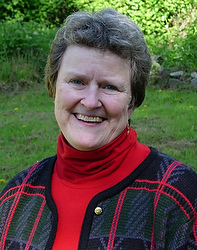 Monica Dodds
Has Passed Away
Dear Friends:
Thank you so much for your prayers and support over the past years and months.
Monica died peacefully at home on Sunday evening, January 6.
As the doctors had said might be the case, her condition suddenly took a sharp turn for the worse and quickly (in only eight days) she was gone. She died at home, in our bedroom.
Services will be at Blessed Sacrament Church, Seattle. (Our parish.) Rosary, Monday, Jan. 14, 7 pm. Funeral Mass, Tuesday, Jan. 15, 11 am.
(The family suggests that in lieu of flowers, donations be made to the Friends of St. John the Caregiver, P.O. Box 320, Mountlake Terrace, WA 98043.)
The celebrant will be my brother Mike. He brought her Communion and anointed her on New Year's day. The kids and I were there.
The children, grandchildren, extended family, and I are doing okay. We're blessed to have each other.
And, needless to say, we were blessed to have had Monica. She did her best to prepare us, even as she knew no one can ever be fully prepared.
She wasn't afraid of dying and, while not wanting to leave us, was ready to move on.
During her final week I kept her mom and siblings informed with an e-mail each afternoon and I included some of the prayers and thoughts she had written in her iPad during 2012. I want to share a couple of them with you.
This is from "My Prayers," written in late June:
When the time comes and I slip away from this life, please be sure that my family knows that they are loved ... by both of us, You and me.
This is from what Monica wrote in late May. It's the end of a piece titled "What will heaven be like?":
Everyone can see, even short people.
I'll see the Blessed Mother. Her face will be so beautiful.
She'll have a great big smile on her face not the plain one we see pictured. I think she'll clap her hands and run to see me and then she'll say, "That's my Son." And then we'll giggle together.
A few hours before she died I came across a notebook Monica had been writing in for the last couple of weeks. This is the last prayer in it:
Put Your arms around me — help me cross over. Will we jump together — laughing, smiling, knowing all will be well?
And these two were a little earlier in the notebook, one right after the other:
I love my dear family. It's hard to leave but I know all will be well.

Buggers . . . what more can I say!
Love,
Bill
To contact us
To join FSJC
To make a donation
To view or make prayer requests
Materials order form
Past "Dear Friends" letters
"Among Friends" quarterly newsletter