Dear Friends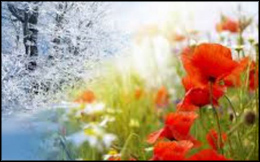 The Hidden World of Caregiving
Week of February 16, 2015
Prayer Requests
Dear Friends,
I felt a little guilty last week when we sent out the winter 2015 edition of "Among Friends," the newsletter for the Friends of St. John the Caregiver. (You can read it online here.)
Yes, this year winter doesn't end until March 20 but here in the Seattle area spring-like weather arrived a couple of weeks ago. Nature--the tulip shoots, tree blossoms, returning song birds, and warm temperatures--has declared winter over.
At the same time, weather reports from the East and Midwest (and even into the South) tell of brutal cold and a tremendous amount of snow.
Day-to-day life there is so much more complicated, harsher, challenging and even dangerous compared to everyday life here right now.
We're in the same country but, in a sense, in different worlds.
I don't write this to gloat. (I have no control over the weather and the only reason I live in this area is because my family moved here when I was 11.) I write this because, it occurs to me that in some ways the same sharp contrast is true between caregiving-families and non-caregiving-families.
If you're caring for a loved one, members of your extended family, parish, neighborhood or work place may have little idea of all that you do. All that you face.
It isn't that they don't have concern. They just don't know. Can't imagine. Easily forget. (In a similar way, I see the national weather reports, visit on the phone with relatives in those hard-hit areas, and then step outside for a pleasant walk on a spring-like day.)
I think that's part of why life can be so lonely for you as a caregiver. There's no news report telling others all about your daily (and sometimes nightly) challenges.
Then, too, caregivers tend to be tight-lipped when it comes to talking to others about their caregiving. (Which is why a support group can be so helpful.) One reason for that is out of respect for their care-receivers. Another is caregivers aren't ones to toot their own horns.
I want you to know this: You, dear caregiver, are not forgotten. Members of the Friends of St. John the Caregiver around the world are praying for you and your loved one.
And I want you to know this, too: On behalf of the Catholic Church, we thank you so much for what you are doing. Thank you so very, very much.
I'll conclude this letter with the prayer and blessing Pope Francis used earlier this month to conclude his message for the World Day of the Sick. (We put it on the front page of the newsletter!)
The Pope's Prayer and Blessing for Caregivers
and Those in Their Care
O Mary, Seat of Wisdom,
intercede as our Mother for all the sick
and for those who care for them!

Grant that, through our service
to our suffering neighbors,
and through the experience of suffering itself,
we may receive and cultivate
true wisdom of heart!

With this prayer for all of you,
I impart my Apostolic Blessing.
Pope Francis
Message for the 23rd
World Day of the Sick
February 11, 2015
(You can read the entire message here.)
As always, you remain in my prayers.
- - -
Ash Wednesday! Already? Here are some thoughts on caregiving and Lent from a previous "Dear Friends" letter.
- - -
This week we're so pleased to welcome Allen E. of New Mexico, Diane D. of California, Lawrence W. of Wisconsin, Kim R. of Oklahoma, and Joella L. of Louisiana as the newest members of the Friends of St. John the Caregiver. Please keep them and their intentions in your prayers. They have promised to pray for you and yours.
Again this week we cordially invite you to join the Friends of St. John the Caregiver! (FSJC's programs include YourAgingParent.com and CatholicCaregivers.com.) You can find out more about becoming a member here.
No meetings, no dues. All we ask is that you pray for caregivers and those receiving care. Our members include caregivers, care-receivers, and those who support both (including quite a few former caregivers).
You can:
sign up on-line here

or call us toll-free at 1-800-392-JOHN (5646)

or print and mail an application form.
God bless you!
Bill